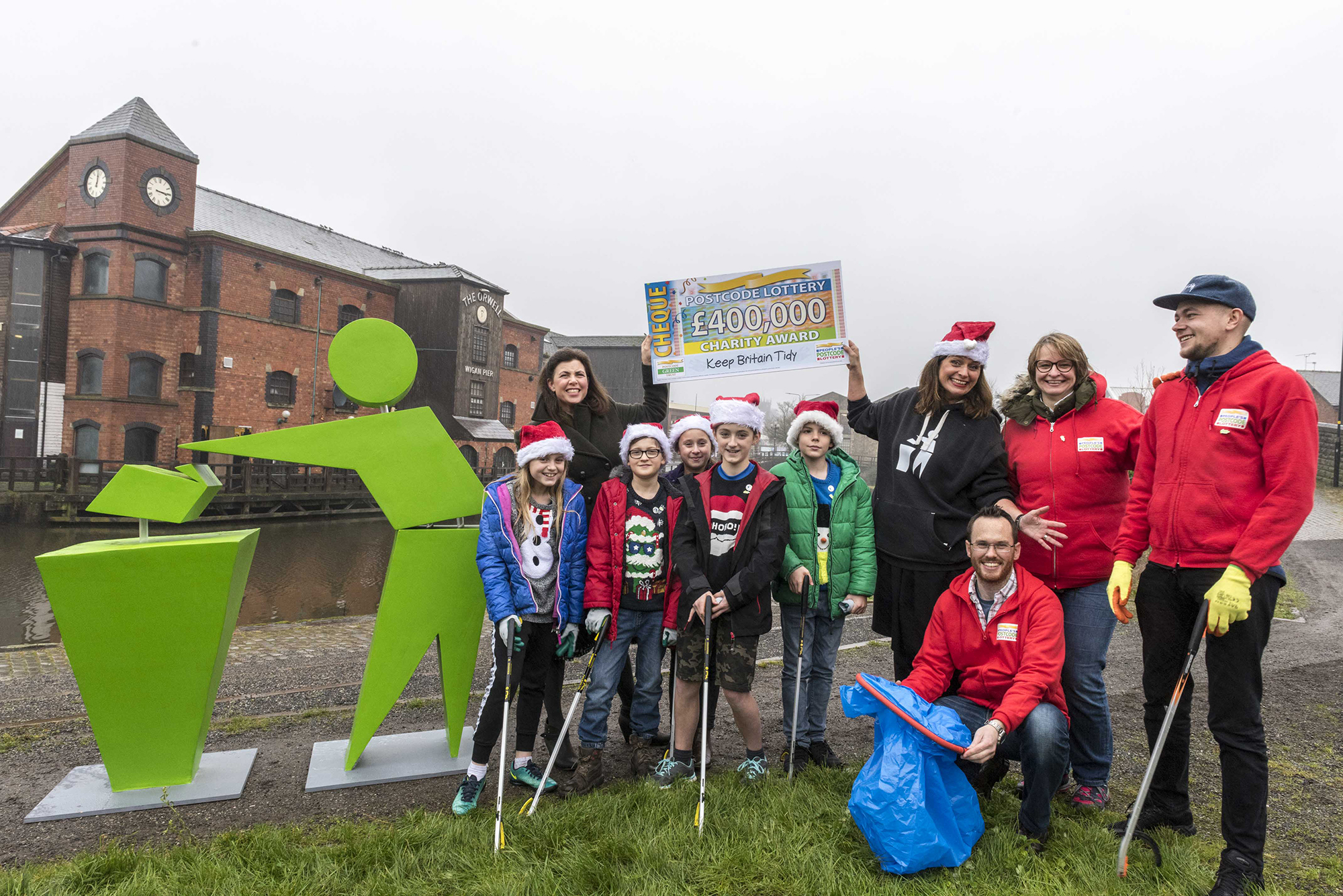 New Litter Army mobilising this Christmas
We are celebrating Christmas by launching a call for a new army of 1,000 volunteers from around the country to help in the fight to eradicate litter from our streets. Our call comes as we announce we've been awarded £400,000 by players of People's Postcode Lottery.
Their support will help in the battle to stop the millions of pieces of litter dropped in this country every day, blighting our streets, parks and beaches and, ultimately, doing devastating damage to our marine environment.
We are celebrating today with representatives from People's Postcode Lottery, children from one of our local Eco-Schools and our ambassador, TV presenter Kirstie Allsopp.
Kirstie has taken time out from her Christmas schedule to lend a hand at a very special, Christmas-themed litter-pick around our offices in Wigan, Lancashire, to promote this new relationship that will transform the landscape.
The funding will support our drive to recruit an army of #LitterHeroes to tackle the blight of litter across the country, as well as helping grow and develop our Eco-Schools programme to enable thousands more children to learn about their environment and take action to tackle litter and waste, save energy and water.
Kirstie said:
"In all the years I have been supporting Keep Britain Tidy I've seen what an amazing difference it can make when we all work together. To have the support of players of People's Postcode Lottery is amazing for a charity that is very close to my heart.

"Whenever I am litter-picking, it's great to know I'm not only helping by doing my bit but I'm one of thousands of people who are coming together to clean up the whole country and I really hope some of the players of People's Postcode Lottery will join us."
Keep Britain Tidy's Chief Executive Allison Ogden-Newton said:
 
"We would like to say a massive thank you to players of People's Postcode Lottery for this fabulous boost for our charity. It's the best Christmas present we could have asked for.

"Caring for the environment on our own doorsteps means so much to us all and that's why we are celebrating this new partnership by cleaning up around our own office. Whatever your postcode, having great public spaces to work, live and play in is so important.

"We want a cleaner, greener and happier country to pass on to our children, and we are so delighted that players of People's Postcode Lottery are supporting us in reaching this goal."
The funding from players of People's Postcode Lottery will also support next year's Great British Spring Clean, which aims to recruit 400,000 #LitterHeroes to clean up all across the country in the first weekend of March.
Clara Govier, Head of Charities at People's Postcode Lottery said:
 
"I am delighted that players of People's Postcode Lottery have been able to award this special 'Christmas gift' to support the work of Keep Britain Tidy and that our team have been able to visit Wigan today and support with a festive litter pick! I look forward to seeing the impact that this funding from players will make over 2018."
Join our #GBSpringClean