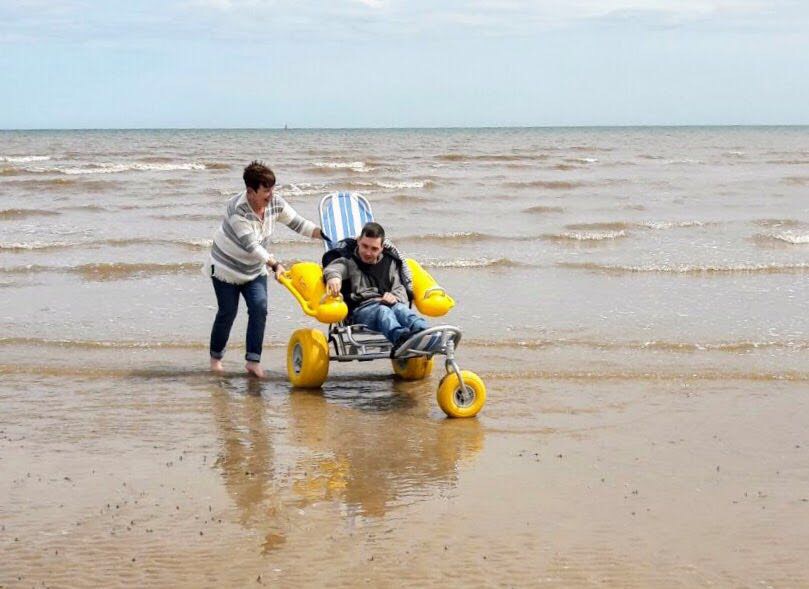 Beaches for everyone
Bridlington South beach help to welcome all
29/06/17
The team at Seaside-awarded Bridlington South beach show beaches really are for everyone, with their new floating wheelchairs.
One gentleman uses a beach wheelchair every week, meaning he can go onto the beach to exercise his dog.  One was used as part of the RNLI's Hit the Surf programme, ensuring a schoolboy could enjoy the experience alongside all his classmates. 
Having the beach wheelchairs has such a wide range of benefits, including allowing families to enjoy the beach who haven't been able to in the past, Anne-Marie tells us what it has meant to her family. 
"Somebody actually said he was enjoying life! As parents of a young man with profound disabilities, the everyday things able-bodied people take for granted are such a hurdle for most disabled people. To see absolute enjoyment on our sons face, was totally overwhelming. To watch him look at the waves, he was transfixed. The whole set up you have at Bridlington is exceptional. Well done all of you, for including the disabled in your plans. And for letting them be included not excluded." 
- Anne-Marie, mother and beach user
"East Riding of Yorkshire Council think this is vital, everyone should be offered the same opportunity to enjoy the seaside.  It is heartwarming to see people enjoy the wheelchairs, from people with broken legs to older people with mobility issues to those with disabilities, the wheelchairs create an opportunity for people to enjoy the beach who otherwise may not be able to do so."
- East Riding of Yorkshire Council.